We are very happy to announce a new artists in our team! Welcome Wayne Wesley Johnson!
Some words from Wayne, that make us very proud: "I finally got an opportunity to 'play' with my Pompeii unit. My God it brought back so many memories. In the 60's/70's I used a Binson Echorec in my two bands, 'The Yellow Jackets' and 'Sons & Lovers', It was an essential part of my sound. Unable to find service on it, at the time, I reluctantly sold it. I'm so glad I discovered your new Pompeii pedal. It's uncanny how much like my old Echorec it is, without the noise factors. I really love it. Besides the nostalgia factor, it really will give me the sounds I've been missing and once again add to my performances and recordings. Thanks for making this great product."
Below you can find the picture of the pedalboard of Wayne with our POMPEII T1.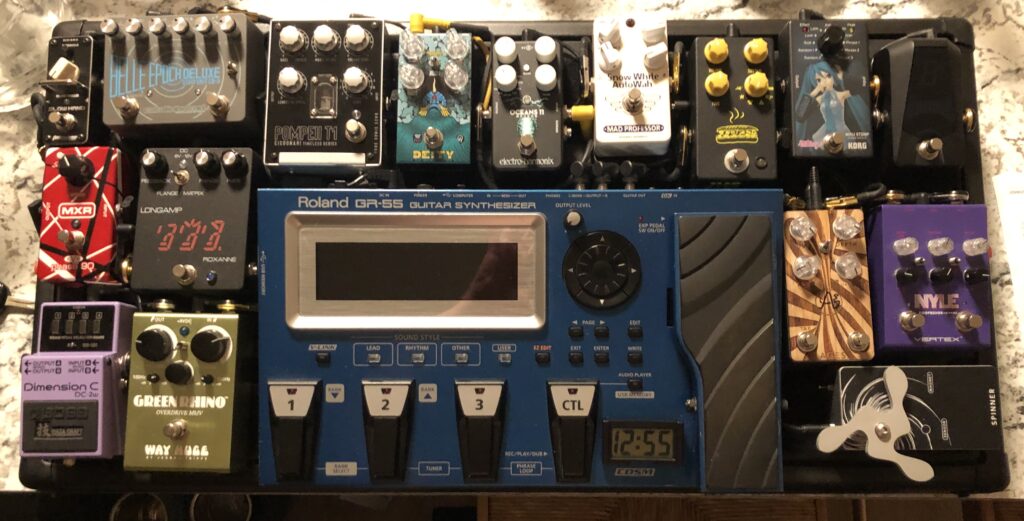 Wayne Wesley Johnson is a professional Award Winning Guitarist who formerly toured with guitar legend, Les Paul, recorded and performed with Nokie Edwards (The Ventures), and others, and has performed with Mason Williams (Classical Gas). He has sold over 80,000 CDs worldwide and his music is heard Internationally on over 400 radio stations and on "Roswell," "Malcolm in the Middle," Discovery Channel, "Outward Bound," MTV's "Made," and the Weather Channel to name but a few. He has toured and performed all over the world including China, Israel, Europe, South America and in most of the 50 states.