"Dimensional Echoes", this is the title of Oscar Jordan of Vintage Guitar Magazine in the review of our POMPEII PE603. Our most famous product has been awarded by VG magazine; here are some excerpts from what Oscar said:
"The PE603 adds an entirely new dimension to any rig while delivering warm echo, much like the original."
"Players can create lush, warm, and trippy sounds like it was the '70s all over again."
You can read all the article of Vintage Guitar Magazine HERE.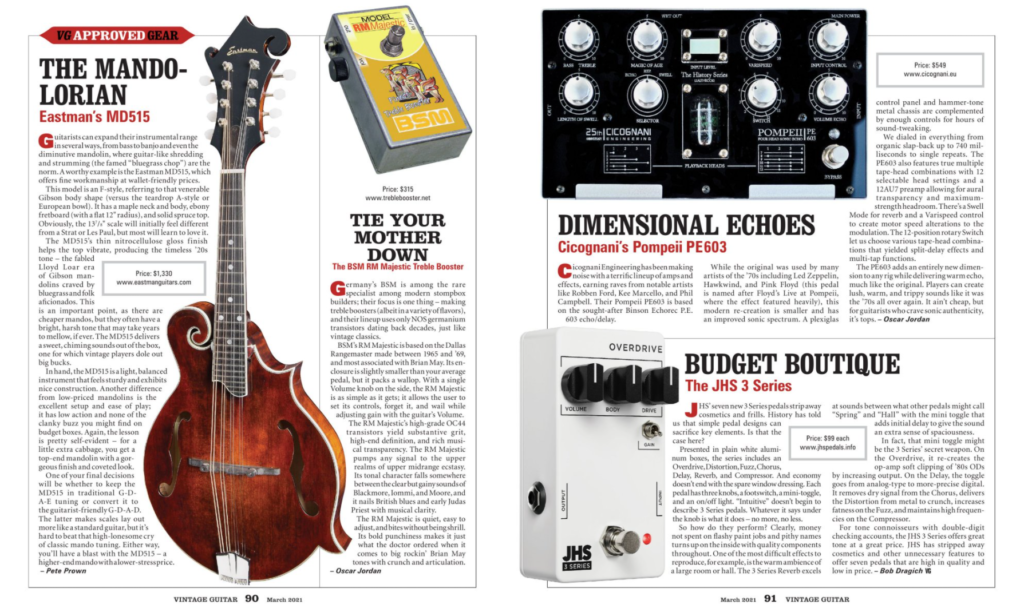 POMPEII PE603 is an echo unit that aims to revive the emotions of the past but in a smaller pedal and with improved sonic performance. Tonewise the PE603 provides from classic slap-back to up to 740mS delay. The swell mode creates a reverberation and is made possible through the use of all the heads simultaneously. Both wet & dry signal pass through a 12AU7 tube for the warmest sound with maximum transparency. A Fet cascade circuit is employed to mix gains and buffer the signal.
Thanks to great signal dynamics the POMPEII PE603 can either be used in front of the amp or in the FX loop at instrument or line level without making any adjustments.
A great deal of time was spent developing the feedback and tone circuits; as a result, the interaction between the feedback and tone controls can create the most beautiful of sounds. To fully re-create the original magic, the POMPEII PE603 is a "multi-head" echo, sharing the same first twelve switch positions as the early machines.